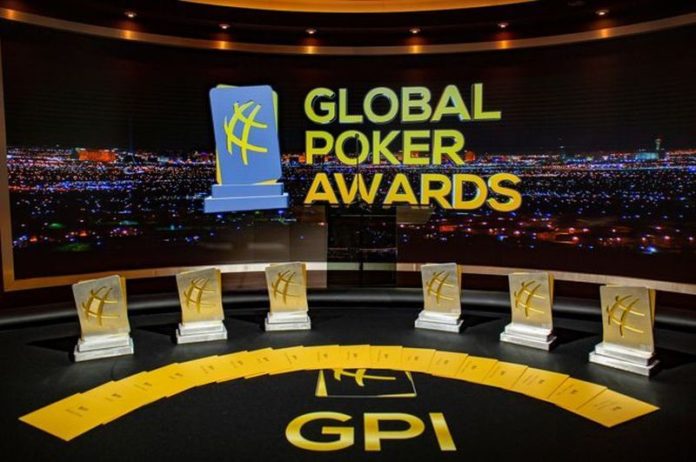 Po wstępnym głosowaniu i nominacjach poznaliśmy decyzję panelu Global Poker Awards dotyczącą tegorocznych nagród. Zobaczcie, kto ma na nie szanse.
Pośród nominowanych w tegorocznych Global Poker Awards wyróżniają się między innymi Johan "Yoh Viral" Guilbert, Jamie Kerstetter, Jeff Platt, Doug Polk oraz Joe Stapleton. Trzecia edycja imprezy odbędzie się w Las Vegas. Emisja zaplanowana została na 18 lutego, a ekskluzywną relację na żywo przeprowadzi PokerGO.
Dwie nominacje otrzymała Jamie Kerstetter. Pokerzystka, która otrzymała już nagrodę dla Osobowości Roku na Twitterze nominowana została ponownie w tej kategorii. Jest nominowana także w kategorii Komentatora Roku. W tej kategorii walczy też Jeff Platt, który otrzymał również drugą nominację za swój materiał na WSOP zatytułowany "Stand Up for Me Please".
Francuski pokerzysta Johan Guilbert otrzymał nominację za Przełomowy Sukces (Debiut Roku), a także Pokerowej Osobowości Roku (wybór fanów – głosowanie w tym miejscu). Pośród nominowanych są także między innymi Lancey Bradley, Matt Savage i Kara Scott, którzy wygrywali już w przeszłości.
Łącznie podczas ceremonii przyznane zostanie 26 nagród. Nagrody GPI Player of the Year i PokerGO Tour Player of the Year odbierze Ali Imsirovic. Nagrodę w kobiecej kategorii za zwycięstwo w klasyfikacji GPI odbierze Nadya Magnus. W nowej kategorii na gracza turniejów średnich stawek (Mid Major Poy) weźmie David Mzareulov.
Najlepszy występ na stole finałowym:
Koray Aldemir (Niemcy), WSOP Main Event
Jeremy Ausmus (USA), WSOP PLO High Roller
Daniel "Jungleman" Cates (USA), WSOP 50K Poker Players Championship
Adam Friedman (USA), WSOP 10K Dealer's Choice 6-Max Championship
Przełomowy sukces GPI
Christopher Brewer (USA)
Kyna England (USA)
Johan Guilbert (Francja)
Vanessa Kade (Kanada)
Najcięższy oponent (wybór graczy)
Michael Addamo (Australia)
Stephen Chidwick (Anglia)
Ali Imsirovic (Bośnia i Hercegowina)
David Peters (USA)
Osobowość roku na Twitterze
Will Jaffe (USA)
Jamie Kerstetter (USA)
Kitty Kuo (Taiwan)
Kevin Mathers (USA)
Najlepszy streamer
Kevin Martin "kevinmartin" (Kanada)
Benjamin Spragg "Spraggy" (Anglia)
Jonathan Van Fleet "apestylespoker" (USA)
Lex Veldhuis "LexVeldhuis" (Holandia)
Najlepszy vlogger
Jaman Burton (USA)
Ryan Depaulo (USA)
Brad Owen (USA)
Ethan "Rampage" Yau (USA)
Osobowość roku
Tony Burns (USA)
Jack Effel (USA)
Mori Eskandani (Iran/USA)
Matt Savage (USA)
Najlepszy dyrektor turniejowy
Paul Campbell (USA)
Justin Hammer (USA)
Ray Pulford (USA)
Andy Tillman (USA)
Najlepszy event
Seminole Hard Rock Rock 'N' Roll Poker Open Opening Event
World Series of Poker Main Event
Wynn Mystery Bounty (Summer 2021)
Wynn Millions
Najlepszy podcast
Poker in the Ears (James Hartigan, Joseph Stapleton for PokerStars)
The Chip Race Poker Podcast (David Lappin, Dara O'Kearney for Unibet Poker)
The Doug Polk Podcast (Doug Polk)
The Heart of Poker (Kara Scott)
Komentator roku
Jamie Kerstetter (USA)
Ali Nejad (USA)
Jeff Platt (USA)
Joseph Stapleton (USA)
Najlepszy dziennikarz turniejowy
Merom "Mickey" Doft (USA)
Timothy Duckworth (Australia)
Chad Holloway (USA)
Christian Zetszche (Niemcy)
Najlepszy tekst roku
Lance Bradley (Canada) dla PocketFives: Isai Scheinberg: His Company, His Legacy, and How Black Friday Impacted Both
Alex O'Brien (Germany) dla BBC: How a $10k poker win changed how I think
D'Arcy Maine (USA) dla ESPN.com: While battling brain cancer, Michael Graydon lives World Series of Poker dream
Charles Rabin (USA) dla Miami Herald: From immigration 'cage' to newest poker champ at Hard Rock. An Afghan refugee's luck turns
Fotografia roku
Antonio Abrego (USA) dla PokerGO: Adam Friedman defeats Phil Hellmuth for 3rd straight WSOP 10K Dealers Choice title
Hayley Hochstetler (USA): The End of an Era
Enrique Malfavon (USA) dla PokerGO: The WSOP Main Event Bubble Bursts
Danny Maxwell (Ireland) dla PokerNews/WSOP: Brandon Shack-Harris and his umbrella at WSOP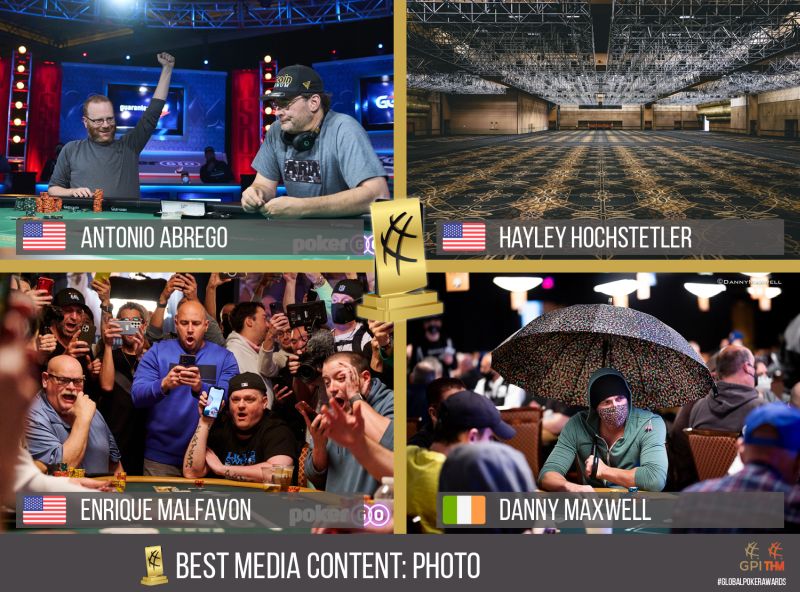 Najlepszy film roku
Paul Graydon & Andrew Neeme (USA): The Villain Who Stole Christmas
Last Call Pokeridokumentii (Finland)
Jeff Platt (USA) dla PokerGO: "Stand Up for Me, Please!"
Remko Rinkema (Netherlands) dla PokerGO: Run it Back with Stefanie Ungar
Run It Once: Meet The Jungleman
Wybór fanów: ulubione rozdanie
Daniel "Jungleman" Cates (USA) zmusza Lenga do spasowania w PPC za 50.000$
Doug Polk (USA) i epicki fold przeciwko Hellmuthowi w "High Stakes Poker"
Nicholas Rigby (USA) i ogromny blef w dalszej fazie Main Eventu
Kareta na karetę w trzecim dniu Main Eventu (Chang Liu vs Ugur Secilmis)
Wybór fanów: najlepsze trofeum
Mike Sexton WPT Champions Cup
MSPT South Dakota State Championship
Seminole Hard Rock Poker Open Championship
WPTDeepStacks Gold Coast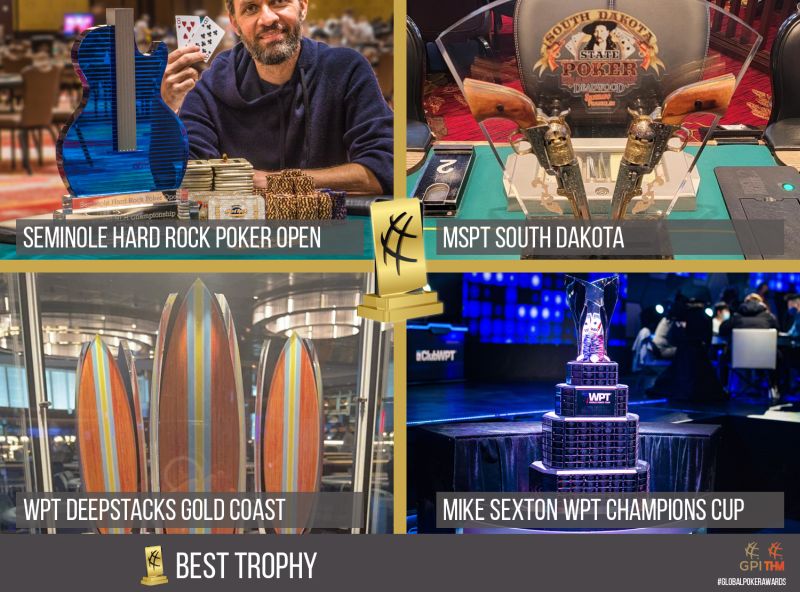 Wybór fanów: osobowość roku
Johan "YoH ViraL" Guilbert (Francja)
Greg "Greg Goes All In" Liow (Kanada)
Jonathan Little (USA)
Masato Yokosawa (Japonia)