It took just one week for the 2021 World Series of Poker to settle into a routine. After the initial chaos of the early events with their long lines and sometimes slow-paced verification processes, the vibe at the Rio found its stride with big names winning bracelets, shot takers living their dream, and a historic blow-up we all saw coming.
Week two brought back a very familiar feel to the WSOP, even under the "current conditions." From packed fields of poker's brightest stars to an old-fashioned dose (or two) of drama, things remained lively throughout the week.
With that, let's check out the five biggest storylines from Week 2 of the World Series of Poker.
#1. Hellmuth Melts Down, Wants To Burn It Down
The question of whether Phil Hellmuth would win WSOP gold bracelet #16 before he lost control has been answered. This week, Hellmuth was at the third final table of his first five events and took the chip lead into the final day of the $10K Stud. The entire poker world tuned in to see if he would make history – and he most certainly did. Just not by winning a bracelet.
Hellmuth saw his chip lead slip away and, as his stack tumbled, his #POSITIVITY absolutely crumbled. Then it happened – he finally freaked out.
(Note: there's an eff-ton of eff-bombs in this video so fair warning)
Phil Hellmuth is a scumbag pic.twitter.com/MllVlrY3zi

— Thomas Keeling (@SrslySirius) October 12, 2021
After losing a key pot to eventual winner Anthony Zinno, Hellmuth had a full-on meltdown. Hurling insults, swear words, and a few self-congratulatory comments. He jokingly threatened to "burn this motherf***ing place down" if he didn't end up winning. He even re-introduced himself to the table, asking if this table even knew who he was?!
For poker purists, like commentator Norman Chad, Hellmuth clearly crossed the line.
Was @phil_hellmuth out of line last night at the final table of the WSOP $10,000 stud final table?

Unrelentingly, unacceptably, unspeakably.

All the bracelets in the world do not excuse that behavior at the table. Ever.

It's GOTTA stop, buddy.

— Norman Chad (@NormanChad) October 12, 2021
For pure entertainment value, it was a historic, epic Hellmuth "Poker Brat" moment. It was an all-timer for sure and "burn it down" is going to rival "idiot from Northern Europe" in future memes.
Fuck you Phil. I supported you and now feel like a chump after watching your bullshit yesterday. If I said half of what you did, I'd be banned for life. Fuck you. Entitled prick…

— GrouseHunter (@HunterGrouse) October 12, 2021
Once he calmed down, Hellmuth took to Twitter, issued as much of an apology as he could muster, and took his medicine. He even retweeted some of the harshest comments directed at him (see above). But for poker as a whole, this is another love-it-or-hate-it moment from the WSOP. And wherever you fall, this is for certain, this moment is one we won't forget anytime soon.
My Mother and Father were embarrassed/mad at me…My friends told me I was out of line. After 44 hrs of ridicule on social media, and realizing my rants set a bad example for poker players everywhere, I think I can reign it in A LOT. I might not be perfect, but I can be better… https://t.co/13JHafpKsJ

— phil_hellmuth (@phil_hellmuth) October 13, 2021
People don't think I LOVE @AntZinno?!? C'mon man! #POSITIVITY pic.twitter.com/S61E3KzKMj

— phil_hellmuth (@phil_hellmuth) October 14, 2021
#2. Misguided Man Enters the Ladies Event
In case you hadn't seen our op-ed published earlier – here's a link.
The facts are that a poker player from Minneapolis decided to be the sole man to pay the $10,000 entry fee and play the Ladies Event. He claimed it was all to raise money for unspecified women's charities, even though in order to make any money, he would have needed to have a final table finish of eighth place or better.
As should be expected the decision was met with plenty of backlash, including from some of the women who played in the event. The player ended up not making the money and according to reports, the announcement of elimination was met with plenty of cheers. As of this writing, the player has not spoken more about his experience or if he plans on making donations to women's charities despite finishing out of the money.
More importantly, the event drew a field of 643 women, including top-tier pros Jennifer Shahade, Sofia Lovgren, Jamie Kerstetter, Melanie Weisner, Elena Stover, and J.J. Liu who made the final table.
Just sat down! #wsop

Gl to all my friends playing 🥰 pic.twitter.com/nrj98Zwn25

— Jennifer Shahade (@JenShahade) October 11, 2021
So jazzed to be back at the WSOP and playing my favorite event! Let's do it ladies 💋💄💃 pic.twitter.com/QBHUmbxDLF

— thegroupie (@thegroupie) October 11, 2021
The final table of the Ladies Event can be watched for free on YouTube.
#3. Big Names Add Bracelets To Resume
The deeper into the series, the most notable names have been emerging with new gold bracelets to add to their trophy case.
Over the course of the past seven days, John Monette picked up his fourth career WSOP victory after besting Nate Silver in the $10,000 Limit Hold'em Championship for $245,680. Days later it was Anthony Zinno grabbing his third bracelet in the aforementioned $10K Stud where he overtook a talented final table including Hellmuth, Poker Hall of Fame member Jack McClelland, and Stephen Chidwick. Zinno took home more than $182K with the win.
Mixed game specialist Dylan Linde can be taken off the "best without a bracelet" list as he grabbed gold in the $1,500 Mixed Omaha Hi-Lo for $170,269. Finally, longtime grinder DJ Alexander found a way to to the end of the $1,000 Flip & Go to earn some hardware of his own plus the $180,655 first-place prize. That's leads us to…
#4. Flip and Go Madness
For the better part of two days, you couldn't look at social media from the World Series of Poker without seeing the crowds that gathered in the single table satellite area of the Pavilion, hoping to flip their way into the money of the $1,000 Flip and Go event sponsored by GGPoker.
READ: Fast and Furious Flip and Go Event Incites Action At The WSOP
Daniel Negreanu lit the fuse and soon thereafter people were lining up to pay $1,000 to try and win a single hand in order to advance to the money round. For some, it was one and done. But for a couple of big-name pros, the quest to win the flip became costly.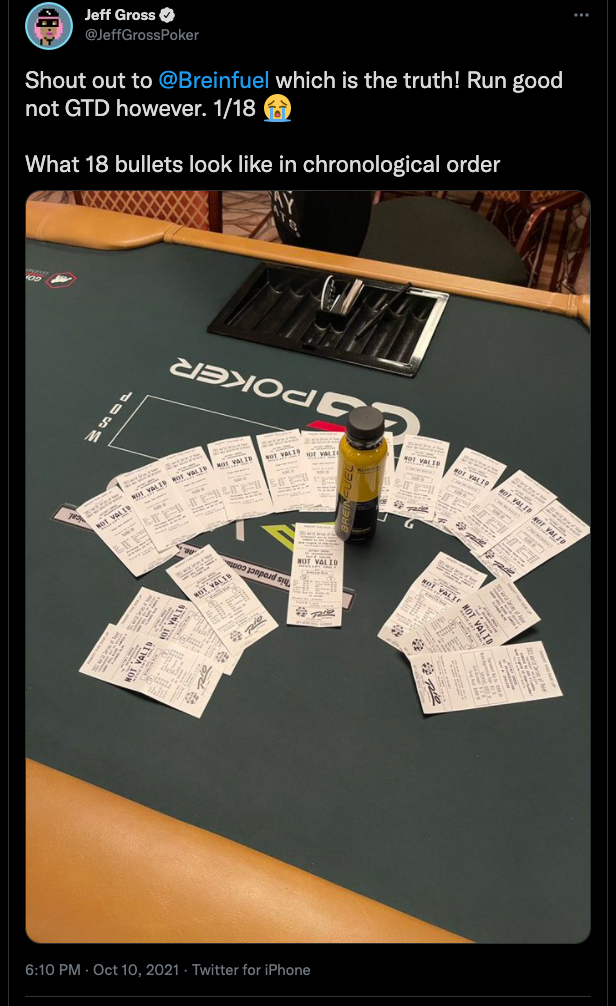 The event was polarizing with plenty of detractors feeling like it was a rake trap and added to the narrative that the WSOP was cheapening the brand by allowing people to "flip for a bracelet." However, there were also plenty of accounts of people embracing the madness and adrenaline that came with leaning into the luck factor in order to advance.
#5. Drama Returns to the Rio
The World Series of Poker is in full swing so is the drama that comes with it. Of course, there's the aforementioned Hellmuth explosion and "Man Entering Ladies Event", which are their own stories. However, other mini-drama bombs have gone off this week, some of which have serious implications, some of which are just reminders of the kind of spats that take place when highly competitive players are fighting for massive prize pools.
The first took place when poker pro Adam Hendrix tweeted out an issue that he heard about where an unnamed poker pro was entered in an event, sat down, and was waiting for the event to start but decided to unregister. Then later, that player re-registered (which is standardly against the rules). When that player turned out to be Kelly Minkin who unreg'd for a variety of reasons and only re-registered hours later, the air was cleared and the social media spat was squashed.
Here's a taste of the back-and-forth:
I was informed yesterday a well known pro upon sitting down for the WSOP 6max, asked the floor to be unregistered. The floor said they would not be able to re-register the same event. A few hours later the player was seen in the same event, floor notified and no punishment given.

— Adam Hendrix (@AdamHendrix10) October 8, 2021
I was seated at a late reg table 3 handed for ~25 min with two people I didn't know. A player who has harassed me in the past and stolen money from me was seated at the table next to me. Since play hadn't started I asked the floor if I was able to unregister because of this.

— Kelly Minkin (@The_Illest) October 8, 2021
In this case where the floor gave the go ahead. I believe Kelly did nothing wrong, and will retract my statement. Although I do think WSOP needs to work on this policy for the future. https://t.co/SukumBlnek

— Adam Hendrix (@AdamHendrix10) October 9, 2021
While that gave Poker Twitter some good reads for a few hours, Shaun Deeb encountered a much more serious scenario when he woke up, with what he said, was someone in his hotel room.
Nothing like waking up at 6am to someone who is inside your room robbing you PSA to all staying at the Rio make sure you latch your door at night and sadly the person ran away we will see if security can actually do their job or not and find them

— shaun deeb (@shaundeeb) October 10, 2021
Deeb's been mum about the incident since, not saying what if anything was taken. Thankfully, he's fine and was spotted at the tables soon thereafter.